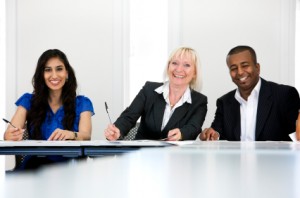 What are the Reasons to Invest in Training?
All top sportspeople know, practice and live the fact that coaching and training are vitally important to get to the top.
They also know that it is even more competitive at the top than it is on the way there.
Sporting analogies are often used in business to simplify and explain business situations; Why?
Because there are a lot of similarities between high-level sport and ANY level of business.  One of these similarities is the critical importance of constantly honing skills, practicing techniques and preparing responses to different scenarios.
Another is the robust competition present in both the sporting and business arenas, and the fact that frequent training gives you a competitive edge, making it more likely that you will win that next match (or deal, contract, tender etc.).
If you are working for a progressive, aggressive, growing company, your CEO probably spends 1 FTE average salary on his/her own professional development.
It may be worthwhile requesting the same spending level on development of your whole Department's skills & training, on the basis that making the "engine room" of your company run better, gives the helmsman (CEO) more power to drive the company in the desired direction.
Increasing the skill levels of the whole Company increases business throughput without increasing head-count, maximising both profitability and growth potential.  What CEO would not sign-off on such a proposition?
"Continual staff Development leads to continuous company Growth"
Pdtraining delivers 1000's of professional development courses each year in Brisbane, Sydney, Parramatta, Melbourne, Adelaide, Canberra and Perth, so you can be assured your training will be delivered by a qualified and experienced trainer.
All public courses include am/pm tea, lunch, printed courseware and a certificate of completion.  Customised courses are available upon request so please contact pdtraining on 1300 121 400 to learn more.