Wikipedia states – 'A Training Needs Analysis (TNA) is a review of learning and development needs within an organisation. It considers the knowledge, skill and behaviours that people need and how to develop them effectively.'
Commonly doing a Training Needs Analysis can be a long and complex process involving hundreds of performance appraisals; they can be major undertakings and take several months to complete. And what about the $$$? Are they worth it?
TNA's are an important piece of the growth puzzle for individuals and companies however they are falling short in delivering outcomes. Why?
TNA's take too long to complete, loss of interest, goal posts have moved. TNA now deemed redundant.
TNA's are performed then what's next? No easy recognition of what training will help.
One size fits all. Training has been identified however are we giving the wrong people the right training?
The REACH Ecosystem has been developed to ensure TNA's are; quick (ave 12minutes per TNA), based on trait characteristics, functional skills and self-awareness, provide you with specific training matched to help, only the right people highlighted for the right training.
The REACH TNA's can be produced for individuals, teams, from 360's, culture surveys.
Would like to experience it? Sign up here and be rewarded with the opportunity to experience the REACH TNA and how much time and $$$ it will save you.
REACH combines the science of analyzing human traits using psychometrics together with measuring agility (REACH) that can be grown by developing awareness, skills, resilience and a growth mindset.
REACH is measured as a Quotient (a score out of 5) and is visually represented by an individual's REACH Zone.
Higher REACH = Improved performance across role and industry
An individual's primary archetype is identified as one of 4 primary styles: Counselor (green), Coach (blue), Advisor (yellow) and Driver (red), growing agility into the other styles is achieved by developing the skills most commonly associated with the other primary styles. As a person grows their agility to stretch into the other styles, they grow their REACH and in turn improve their effectiveness in different situations.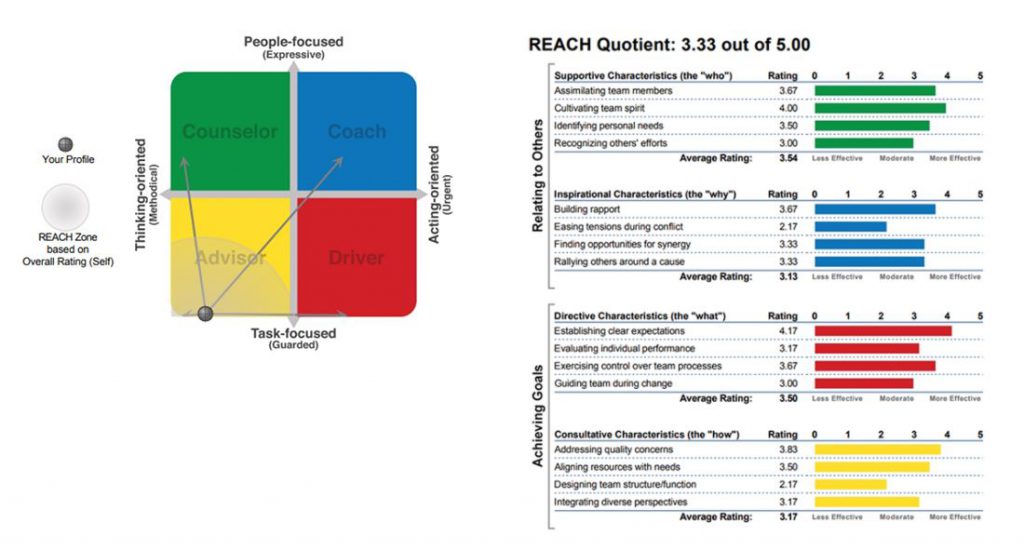 The REACH Framework uses Trait Characteristics (Psychometrics), Functional Skills and Self-Awareness to Target and Measure Growth:
TRAIT CHARACTERISTICS:
The REACH Framework explores two dimensions of Trait Characteristics – The Relational Dimensions and Achieving Dimensions:
RELATIONAL DIMENSIONS
Relating Dimensions describe how individuals tend to interact with others in common settings.
The 5 Relational Dimensions in REACH are:
Affiliation
Consideration
Openness
Status Motivation
Self-Protection
ACHIEVING DIMENSIONS
Achieving Dimensions describe how individuals approach tasks and goals under normal circumstances.
The Achieving Dimensions in REACH are:
Intensity
Assertiveness
Risk Tolerance
Adaptability
Decision-Making
SKILLS:
The REACH framework analyzes 16 skills grouped into four clusters:
THE WHO / SUPPORTIVE CHARACTERISTICS
Assimilating team members
Cultivating team spirit
Identifying personal needs
Recognizing others' efforts
THE HOW / CONSULTATIVE CHARACTERISTICS
Addressing quality concerns
Aligning resources with needs
Designing team structure/function
Integrating diverse perspectives
THE WHY / INSPIRATIONAL CHARACTERISTICS
Building rapport
Easing tensions during conflict
Finding opportunities for synergy
Rallying others around a cause
THE WHAT / DIRECTIVE CHARACTERISTICS
Establishing clear expectations
Evaluating individual performance
Exercising control over team processes
Guiding team during change
Would like to experience it? Sign up here and be rewarded with the opportunity to experience the REACH TNA and how much time and $$$ it will save you.
https://au.reachecosystem.com/about-reach-quotient