What is the Lifetime Value of a Happy Customer?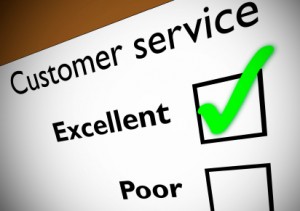 To gain skills in customer service, consider using Customer Service Training Course offered by pdtraining in Sydney, Brisbane, Parramatta and other cities in Australia.
When working on your customer service strategy with pdtraining its not only essential to have a full description of all your customers, but equally its vital that you are aware of your companies sales process and how the customers came to be customers in the first place.
To give you an example, to send out a thank you for doing business with us email to a customer who has been with your company for a long period of time and over that period spent in excess of $100,000 is not really appropriate.
In this case a gift, a personal call from the owner or something that really demonstrates that customers value would be more acceptable. A thank you email might be more appropriate to a customer who has just downloaded an ebook from your website for $1.50.
A simple exercise you can all do is to look at how much a customer is worth to your business over their lifetime. Think dollar value. Think Reputation, Think longevity.
To give you an example, A hairdressing customer is not just a simple $50 haircut. If the customer has a great haircut and receives the right customer service that 1 haircut can become.
1 haircut per month x I'm going to tell 5 friends because the service was so good, who are also going to get their hair cut once per month and who are also going to tell 5 friends who will also have their hair cut once per month.
If they keep coming back for 5 years. $50 becomes
$50 x (5x5x12) x 5 equals $75,000
So when you know the potential value of that initial customer is $75,000 rather than $50 your position and commitment to customer service is going to dramatically change. This is a really powerful exercise and helps really focus your team.
Adam Palfrey
pdtraining Customer Service Trainer
Pdtraining delivers 1000's of professional development courses each year in Brisbane, Sydney, Parramatta, Melbourne, Adelaide, Canberra and Perth, so you can be assured your training will be delivered by a qualified and experienced trainer.
All public Customer Service Training courses include am/pm tea, lunch, printed courseware and a certificate of completion.  Customised courses are available upon request so please contact pdtraining on 1300 121 400 to learn more.