Phone or Email – Which is More Important?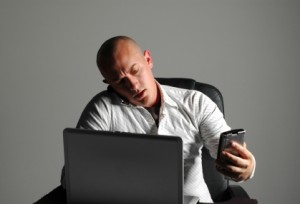 To develop skills in professional telephone conversations, consider participating in Professional Telephone Skills Training Course offered by pdtraining in Brisbane and other cities in Australia.
As with most things in business, the answer to this question is situationally dependant, and varies greatly from case to case.
If you run a "0055" service (for our non-Australian readers, a premium interactive voice service… anything from "I'm at the corner of X St and Y Ave, what is the closest hospital and how do I get there" through "Dear Scorpio, tomorrow you will… " to "mmmm guess what I am wearing right now…"), then – obviously the phone is the primary business medium.
Conversely, if you are on the staff of Amazon or EBay, the phone plays no role at all in most transactions.
However most of us fall somewhere between these two extremes.
In most regular businesses, we use a combination of voice and text communications, both internally and externally.
Each medium has its advantages and drawbacks – on a tough phonecall, you get the benefit of mood feedback from your caller, allowing you to interact in realtime and craft your message to suit a (sometimes) swiftly changing emotional environment.
With email, on the other hand, it is much harder to discern emotional state or needs, BUT you do have the option for self-review, advice from peers, and/or management input before hitting that all-important "send" button.
In essence, choose your medium carefully, and be aware of the implications of your choice. You can respond to an incoming email with a phone call, and you CAN say on the phone "Let me think about that for an hour – I will send you an email by COB today."
In business, either you Communicate, or you Stagnate.
Pdtraining delivers 1000's of professional development courses each year in Brisbane, Sydney, Parramatta, Melbourne, Adelaide, Canberra and Perth, so you can be assured your training will be delivered by a qualified and experienced trainer.
All public Professional Telephone Skills Training courses include am/pm tea, lunch, printed courseware and a certificate of completion.  Customised courses are available upon request so please contact pdtraining on 1300 121 400 to learn more.