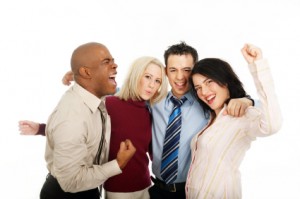 Leadership, Sales and Psychometric Profiling | 360 Degree Feedback and Employee Engagement
If you are looking for personality profiling tools, consider using Psychometric Tools by pdtraining, the exclusive Australian Licensee holder of the Leading Dimensions Consulting range of tools.
Profiling/Psychometric Testing using the LDP
The Leading Dimensions Profile (LDP) is the flagship product of Leading Dimensions Consulting group.
The LDP measures two primary drivers (Achievement Drive and Relational Drive). Achievement Drive provides a summary of an individual's approach to tasks and goals while Relational Drive provides a summary of an individual's approach to interpersonal relations.
The LDP provides detailed insight to these two primary drivers by also measuring ten specific dimensions.
The interpretation of the two primary drivers and ten specific dimensions are used to provide three detailed and thorough reports (see below) that are used very effectively in a range of training, development, coaching and selection applications:
Personal Style Report:
The industry leading LDP Personal Style Report provides individuals with a remarkable and detailed insight into their tendencies and behaviours as individuals and with a strong focus of behaviours in an organisational context.
More details on our Personal Style Report
Sales Profile Report:
This Sales Profile Report (SPR) is a sales coaching tool that identifies two primary factors of an individual's personality style and explores how these factors may impact the individual's approach to the various stages of the sales cycle. The two primary factors measured are referred to as Achievement Drive and Relational Drive.
This report is an amazing tool that profiles the strengths and development opportunities for sales people of all levels across an organisation.
More details on our Sales Profile Report & Aptitude Test
Leadership Coaching Report:
This Leadership Coaching Report (LCR) is a tool designed to increase the effectiveness of short and long-term leadership development training initiatives.
The two primary factors measured are referred to as Achievement Drive and Relational Drive.
This leadership profiling tool provides keen insight into the different dimensions of a person's leadership style, and their strengths and weaknesses in a range of situational leadership circumstances and leadership dimensions – such as their strengths and weaknesses in specific areas like coaching and mentoring.
More details on our Leadership Coaching Style Report
Managerial 360 Degree Feedback
Leading Dimensions 360 Degree Feedback tools are specifically designed to provide managers with the information they need to be the best leaders they can be. Subordinates, co-workers and managers provide constructive feedback in various areas to include Communication, Recognition and Role Clarity and Working Relationships.
This information is packaged and presented in a way that provides a road map to top performance.
Download PDF: Sample Managerial 360 Feedback Report
Organisational Engagement
The Leading Dimensions Organisational Engagement Review provides leaders with the information needed to optimise the performance of their organisations.  The tool provides an overall Organisational Engagement Index by measuring ten important dimensions of employee engagement. The measures of these dimensions, to include Organisational Culture, Communication, Job Relevance and Organisation Purpose, provide specific insight needed to create an environment that prompts a passionate and fully engaged workforce.
Download PDF: Sample Organisational Engagement Review
Pdtraining delivers 1000's of professional development courses each year in Brisbane, Sydney, Parramatta, Melbourne, Adelaide, Canberra and Perth, so you can be assured your training will be delivered by a qualified and experienced trainer.
All public courses include am/pm tea, lunch, printed courseware and a certificate of completion.  Customised courses are available upon request so please contact pdtraining on 1300 121 400 to learn more.