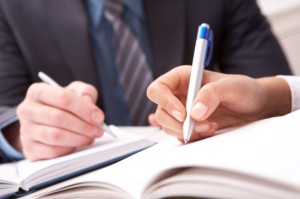 Business writing is a part of written communications in an organisation that reveals the professionalism and competency of an organisation.
Business Writing Training Course delivered by pdtraining in Sydney, Perth and other cities helps you to quickly gain essential skills in writing various kinds of business documents.
A well-written, precise and convincing written communication helps a business build its B2C and B2B reputation along with enhancing professionalism within the business.
Effective business writing enhances our ability to convince, encourage, inspire and handle difficult situations and people. Both verbal and written communication affects our work relationships. Skill in business writing can help a person get the job done faster and smoothly through better convincing ability, precision and professionalism.
Impact of Excellent Business Writing Skills
Participating in a business writing training course helps to gain skills in:
Removing common & embarrassing errors from business writing
Sentence structure and paragraph construction tailored for business writing
Writing professional and effective emails
Understanding and mastering writing agendas, business letters, business proposals & business reports
Removing errors through proofreading
Understanding printing & publishing guidelines for business writing
Written business communications that are lifeless, unconvincing and has errors damages the reputation of an organisation. On the other hand, effective business writing skills introduce professionalism and positivity in written communications that helps in building the image of the organisation thereby accelerating growth.
Business Writing Training: What It Offers
A specialised course in business writing training provides learners various highly-effective tools and techniques that bring immediate and long-term results. Some of the skills participants develop include:
Writing professional, highly-effective business letters
Sentence structuring techniques for enhanced impact
Proposal writing
Written reports aimed at building persuasiveness
Creating accurate meeting agendas
Writing professional emails by using email etiquette
Writing effective projections, summaries & business cases
Reviewing and proofreading skills
Businesses that excel emphasise on improving their business writing skills because it drastically affects their internal and external business interactions, brand image and development.
Written communication skills are an essential part of the development of an organisation both for internal operations, business to business communications and reputation building. Skill development in business writing benefits individuals and companies in business transactions.
Pdtraining delivers 1000's of professional development courses each year in Brisbane, Sydney, Parramatta, Melbourne, Adelaide, Canberra and Perth, so you can be assured your training will be delivered by a qualified and experienced trainer.
All public Business Writing Training courses include am/pm tea, lunch, printed courseware and a certificate of completion.  Customised courses are available upon request so please contact pdtraining on 1300 121 400 to learn more.