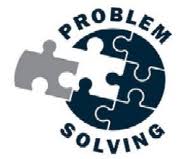 Achieving creative problem solving skills will give you the ability to work as part of a team while trying to solve some current or forecasted problems the business may face.
To learn to creatively solve problems, consider participating in Creative Problem Solving Training Course from pdtraining in Sydney, Melbourne, Brisbane and other cities in Australia.
Psychologists and business people alike have discovered that successful problem solvers use the same types of processes to identify and implement solutions to problems, so can these traits and/or processes be learned?
Absolutely!
This Creative Problem Solving workshop from PD Training, will give participants an overview of the entire creative problem solving process and are available now in Brisbane, Sydney, Melbourne, Adelaide, Canberra, Perth and other cities.
Some of the skills covered in the problem solving course include:
Have a greater understanding of problems & the creative problem solving process
Learn what types of information to gather with some key questions
Use four different problem definition tools
Learn to write concrete problem statements
Master idea generating tools like affinity diagrams, word chaining, the box method, the six thinking hats & the blink method
Learn to evaluate potential solutions against specific criteria like a cost/benefit analysis or group voting
Learn to perform a final analysis and selecting a solution
Gain insight into the roles that facts & intuition play in selecting a solution
Solving problems is a part of life so investing the time to learn from a problem solving professional how to implement these specific techniques used by some of the best consulting companies in the world.
Pdtraining delivers 1000's of professional development courses each year in Brisbane, Sydney, Parramatta, Melbourne, Adelaide, Canberra and Perth, so you can be assured your training will be delivered by a qualified and experienced trainer.
All public Creative Problem Solving Training courses include am/pm tea, lunch, printed courseware and a certificate of completion.  Customised courses are available upon request so please contact pdtraining on 1300 121 400 to learn more.