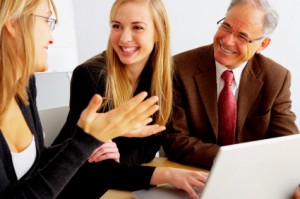 Mastery in communication helps to establish healthy relationships, manage difficult situations, and enhances clarity.
To gain new skills in communication, use Communication Skills Training Course offered by pdtraining in Sydney, Canberra and other cities in Australia.
The elearning modules are also mapped to nationally accredited qualifications.
For the first time in Australia, companies can purchase individual units of competency from a range of qualifications like the Diploma in Business Administration.
To communicate effectively means you're getting your point across, in a concise and professional manner, whether the communication comes from a supervisor to subordinate or as a marketing message to the public.
The following skills and competencies are taught in the Implement an Effective Communication Strategy training course in Sydney.
Learning Outcomes
By the end of this training course, participants will:
1. Receive enquiry
1.1. Establish nature of enquiry
1.2. Ensure interactions with person making enquiry are in accordance with organisation's standards and procedures and meet the person's needs and expectations1.3. Clearly outline legal and other limits of own responsibility to person making the enquiry
1.4. Record person's details and issues

2. Identify and apply appropriate communication techniques
2.1. Use communication strategies that reflect organisational standards and procedures
2.2. Use effective communication techniques during the enquiry
2.3. Ensure confidentiality of the enquiry is respected
3. Determine action to be taken
3.1. Identify personal limitations in taking action and seek appropriate assistance from designated individuals
3.2. Respond in an appropriate manner
3.3. Involve other parties in action if appropriate
3.4. Manage expectations of person making enquiry
4. Review outcomes of communication
4.1. Follow up with person making enquiry to ensure action was effected
4.2. Seek feedback about the communication strategies
4.3. Undertake appropriate record keeping and reporting
Pdtraining delivers 1000's of professional development courses each year in Brisbane, Sydney, Parramatta, Melbourne, Adelaide, Canberra and Perth, so you can be assured your training will be delivered by a qualified and experienced trainer.
All public Communication Skills Training courses include am/pm tea, lunch, printed courseware and a certificate of completion.  Customised courses are available upon request so please contact pdtraining on 1300 121 400 to learn more.