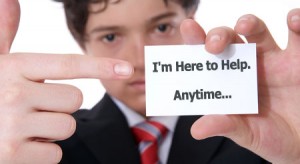 Have you ever gone into a store or restaurant and the service was so bad that you promised yourself you'd never go back?
What was it about the customer service experience that was so poor?
Was the staff rude or arrogant?  Or maybe the service was slow?  Or maybe they didn't have what you were looking for?  Or were your expectations too high?
Well there is nothing wrong with having high expectations, so how can poor customer service be improved?
Did you contact the manager or store owner to share your experience with them?  Did you fill out the survey?
I've found that many business owners are so busy in the back of the business they are not always aware of what is happening at the front of their business, so it is important to give feedback on customer service; both positive and negative.
Great customer service can be taught and will offset almost any other issue a client may experience.
I recently stopped into a men's shop at the international airport in Dallas to inquire as to whether another brand's store was in the shopping area of the airport.
The person behind the counter not only told me exactly how to get to the other shop, but when he learned I was after a very particular shirt colour and size, he actually rang the store and asked them if they had exactly what I was after; which they did.  And he did this without being prompted…
Now that was AWESOME customer service!
So start creating your own raving fans in Brisbane by providing your clients with the best customer service possible, and attend a Customer Service training course in Brisbane with PD Training.
PD Training delivers professional customer service training courses in Brisbane, Sydney, Melbourne, Perth, Adelaide and Canberra.
The new PD Training rooms come equipped with free wi-fi, a recreational gaming area with Nintendo Wii and the Customer Service training course in Brisbane, also includes a free lunch with the cost of the course.
Free street parking is also available and we are close to public transport as well.
All students receive post Customer Service training course in Brisbane support from the instructor for 12 months, a certificate of completion and small class sizes are guaranteed to result in a better training experience for you.