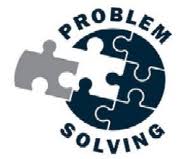 Attending a creative problem solving course in Sydney, Melbourne or Brisbane can give you the ability to work as part of team while trying to solve some current or forecasted problem the business may face.
Psychologists and business people alike have discovered that successful problem solvers use the same types of processes to identify and implement solutions to problems, so can these traits and/or processes be learned?
Absolutely!
This Creative Problem Solving workshop from PD Training, will give participants an overview of the entire creative problem solving process and are available now in Brisbane, Sydney, Melbourne, Adelaide, Canberra and Perth.
Some of the skills covered in the problem solving course include:
Have a greater understanding of problems & the creative problem solving process
Learn what types of information to gather with some key questions
Use four different problem definition tools
Learn to write concrete problem statements
Master idea generating tools like affinity diagrams, word chaining, the box method, the six thinking hats & the blink method
Learn to evaluate potential solutions against specific criteria like a cost/benefit analysis or group voting
Learn to perform a final analysis and selecting a solution
Gain insight into the roles that facts & intuition play in selecting a solution
Solving problems is a part of life so investing the time to learn from a problem solving professional how to implement these specific techniques used by some of the best consulting companies in the world.
PD Training delivers a one day training course on "Creative Problem Solving Training Course" in Sydney, Melbourne, Perth, Adelaide and Canberra.
Our next course on Creative Problem Solving is on April 30th, 2012, so book your seat today!
The new PD Training rooms in Brisbane come equipped with free wi-fi, a recreational gaming area with Nintendo Wii and the Creative Problem Solving Training Course also includes a free lunch with the cost of the course.
Free street parking is also available and we are close to public transport as well.
All students receive post Creative Problem Solving Training Course from the instructor for 12 months, a certificate of completion and small class sizes are guaranteed to result in a better training experience for you.
Best Creative Problem Solving Training Course including use of a cool games room, great lunch and bottomless espresso, free soft drinks and unlimited health snacks all day – book in the next class on April 30th, 2012 – small interactive class, definitely the BEST course, BEST Trainers and BEST training environment!