Many organisations are now experiencing the "new normal", with a large portion of staff working either remotely from home or in smaller satellite offices, while some essential staff are coming into work in the primary CBD office.
We have many clients who are making the shift to support training remote workers virtually, while some essential staff are still in the office, so how do we best provide professional development training to these workers who are in multiple locations at the same time?
Another issue our clients are facing is the concerns with travel and some restrictions around state borders and other lockdown-related concerns, so how does an organisation overcome these current issues to get their people upskilled and stay productive?
While live, online virtual training can be a solution, more and more clients are requesting training solutions which can meet the needs of both the essential workers who are physically in the office and the staff working remotely.
In a recent client survey, 48% of respondents stated they would be interested in providing "Hybrid-Style" training courses for their staff in the next 1-3 months with the highest interest in Communication Skills and Leadership Development.
Hence, PD Training's new offering of "Hybrid Training" courses.  In a 'hybrid' course delivery, the remote staff can dial in and attend a course 'virtually', while the staff in the office attends a live instructor-led training session at the same time and in the same room.  This provides for an interesting merge between live virtual training and live face-to-face training.
Classroom/Equipment Set-Up
To facilitate this style of training delivery, we have learned some important lessons related to the best practice technology and equipment required to provide the best experience for the participants as per outlined below:
Preferred Scenario – In a preferred classroom setup we would have the following equipment:
Video Camera that can follow the trainer as he/she moves around the room
Large Screen TV where the Zoom/Teams call is screencasted, so the physical attendees can see the virtual attendees and vice versa.
A laptop to facilitate the zoom call
A separate laptop for the trainer's presentations and notes
A projector to facilitate the slides on a large screen
Minimum Scenario – The minimum setup would have the following equipment:
Still Video Camera with widescreen lens
A laptop to facilitate the zoom call and show attendees
A separate laptop for the trainer's presentations and notes
A projector to facilitate the slides on a large screen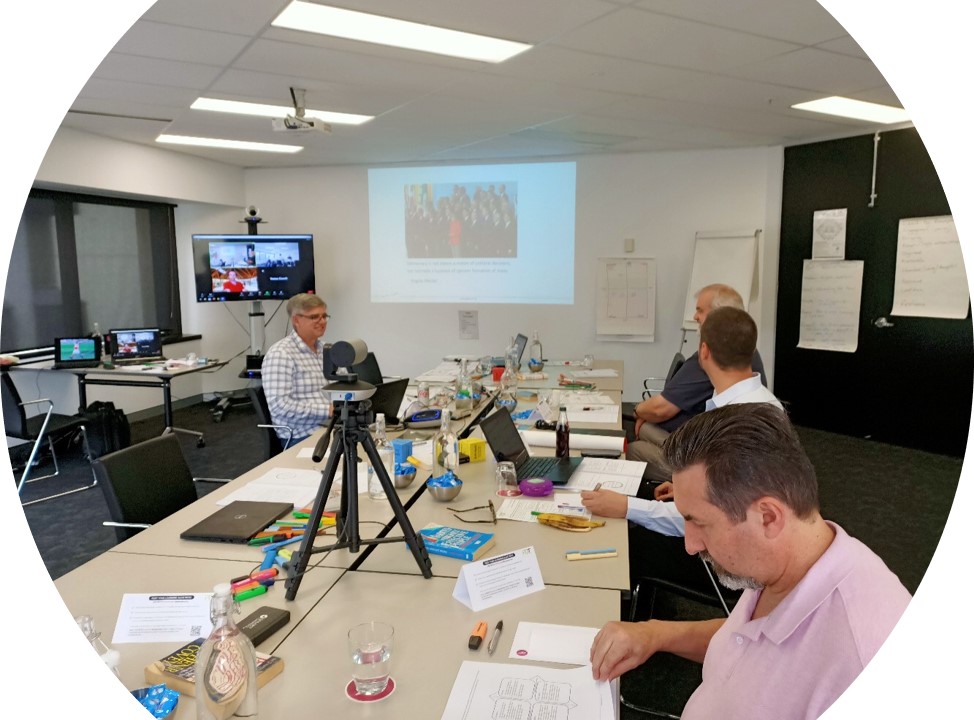 Interacting with Both Groups
So, in a traditional classroom setting it's very easy to conduct group activities that include everyone, but with the hybrid corporate training scenario, the trainers now have to take into consideration that there are now two types of attendees, so how do they manage group activities?
We can still conduct live group activities with the face-to-face participants, but now we also need to engage with the virtual participants at the same time.
By using Zoom or Teams, the trainer can still conduct activities with the virtual team and even create multiple rooms for multiple groups depending on the number of virtual participants.
To help facilitate this "new normal" in the corporate training space, PD Training has invested quite a bit of time in training our trainers how to manage a hybrid classroom and have provided them with numerous types of activities that can be conducted either face-to-face or via a virtual classroom experience as well.
Some trainers have really taken up the option to teach hybrid courses and have invested a lot of their own time in using creative activities for both types of participants.
Multiple Hybrid Delivery Locations
Some of our clients, who have remote and essential workers in multiple locations, have adopted a popular idea where they have the physical face-to-face courses delivered in different capital cities to facilitate face-to-face training for multiple branches or offices, while the remote staff dial in to access the courses. So, one month they might run the face-to-face course in Sydney, then next month in Brisbane and the next month in Melbourne. That way all the office-based staff do both face-to-face and virtual deliveries, but it mixes up the experience a bit.
Hybrid Corporate Training Planning
Planning a hybrid-style corporate training solution does require some additional thought and planning to make sure the equipment is set-up correctly and everything is "working", plus there is also some liaising with multiple participants, multiple time zones, room hire vs corporate boardrooms, etc.
PD Training has delivered 100's of virtual training sessions in our 10 years of providing various training solutions, so let us use our decade of experience to work with you to create the best solution for your organisation and staff.
Please contact us via this link – Click here if you would like to book in further time with me to discuss your training needs – to schedule a time to have a scoping call to determine the best outcomes for your organisation today!
Alternatively, you can ring 1300 121 400 to speak with a training solutions specialist directly as well.